Sagami 99% Water Lubricating Gel 60g Water-based Lubricant
EAN Code4974234996643
Special price HKD 29.9 on pjur premium glide 30ml on HKD 299.0 purchase of Sagami items.
Get a piece of SKYN Original 1's Pack iR Condom for any purchase of Men's Grooming, Personal Lubricant & Functional Spray
HKD10 Special offer on Olivia water-based lubricant traveling sachet upon purchase of any items.
Get a FREE Power Edge Razor on HKD 299.0 purchase of Sagami items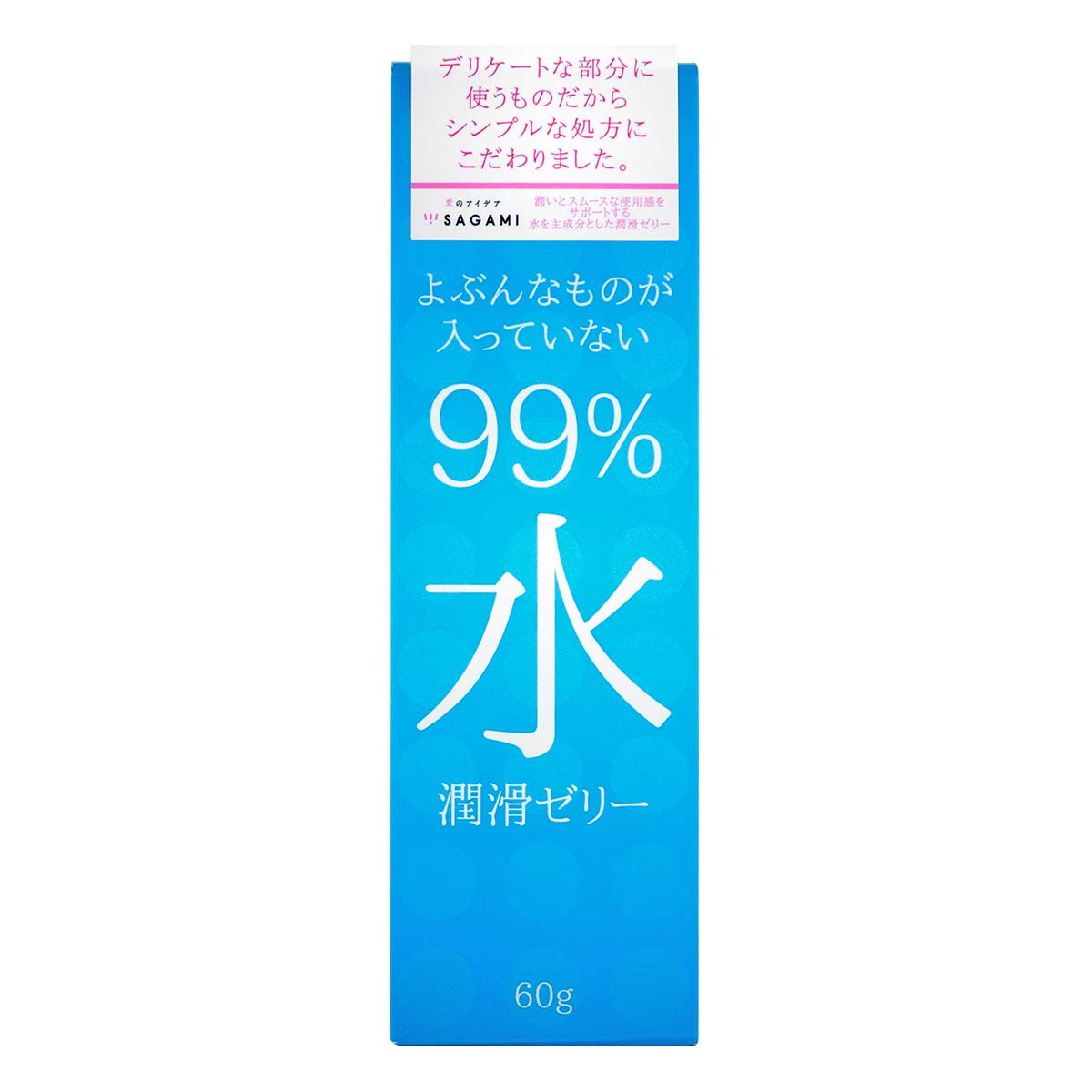 Your trusted brand, sagami 99% water lubricating gel!
Without extra ingredients, it is a simple prescription called 99% water.
Product features
Long lasting lubrication. Moisture retention formula with 99% water.
Light texture, non-sticky touch.
Water soluble and it can be washed easily with water.
Odorless, colorless.
Paraben free.
Sterilization refinement water used.
Allergy tested.

*The allergy does not occur to all people.

Chemicals and stimulation of hormones are not used.
Contains 60g content.
* Sagami proprietary product.
Lack of natural moisturization can happen to anyone at any age
Mental stress - such as when you are physically tired.
Prolonged sex.
After birth, during breastfeeding.
Physical changes due to menopause.
* To a delicate woman... To put on moisturization without enduring it!
This product is a lubricating gel and it is not contraceptive
This product is made from purified water and sterile food additives. Chemicals and stimulation of hormones are not used so it is very safe.
This gel can be used together with natural latex condom and sagami original polyurethane condoms. Allergy tested. To protect yourself against a possible intolerance, please test the product on the lower arm first.
Product quality is assured for 5 years before opening package. Whereas please use the product as soon as possible after opening.
Expiry date: 2021.12
*Use a condom only once. Non-vaginal use of condoms may increase the risk of them slipping or being damaged.
*No method of contraception can provide 100% protection against pregnancy or sexually transmitted infections (STIs) including AIDS.
Sampson user comments on this product: