Sagami Xtreme Picozoo (Eel) 10's Pack (Exp: 2016.08)
EAN CodeX4974234101108
Sheltered from naughty storm
The 2011 promotion campaign that target the right brain of teenagers, works with local illustrator to promote safe sex among the younger generation. This first project we gladly invited minibeanie - a local illustrator worked in Hong Kong for more than 10 years and popular among students and OL. The picozoo series was selected to carry the message with the boys' favorite Lion character and athletes' beloved Eel character. The very special packaging bag can also be used as a mobile phone carrying case or accessories bag!
This product is manufactured in the Atsugi factory which is over 70 years in history and located in Kanagawa-ken, Japan. Scrupulously abide by the label "Made in Japan" for highest possible product quality. Also it uses silicone based lubricant for a more silky and comfortable feeling and easier to clean after use.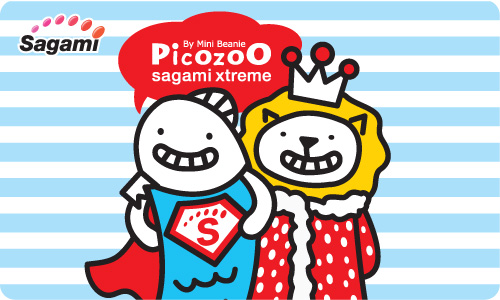 Act now! Try out this Sagami Xtreme condom by yourself immediately!
Expiry date: 2016.08
Certificates
| | |
| --- | --- |
| | ISO 4074:2002 |
*Use a condom only once. Non-vaginal use of condoms may increase the risk of them slipping or being damaged.
*No method of contraception can provide 100% protection against pregnancy or sexually transmitted infections (STIs) including AIDS.
Sampson user comments on this product: