Doctoreyes HIV rapid test kit
EAN CodeX4897024413932
Special price HKD 135 on Sagami Supreme Thin Type 36's Pack Latex Condom on HKD 199.0 purchase of any items.
HKD20 Special offer on Olivia water-based lubricant traveling sachet upon purchase of any items.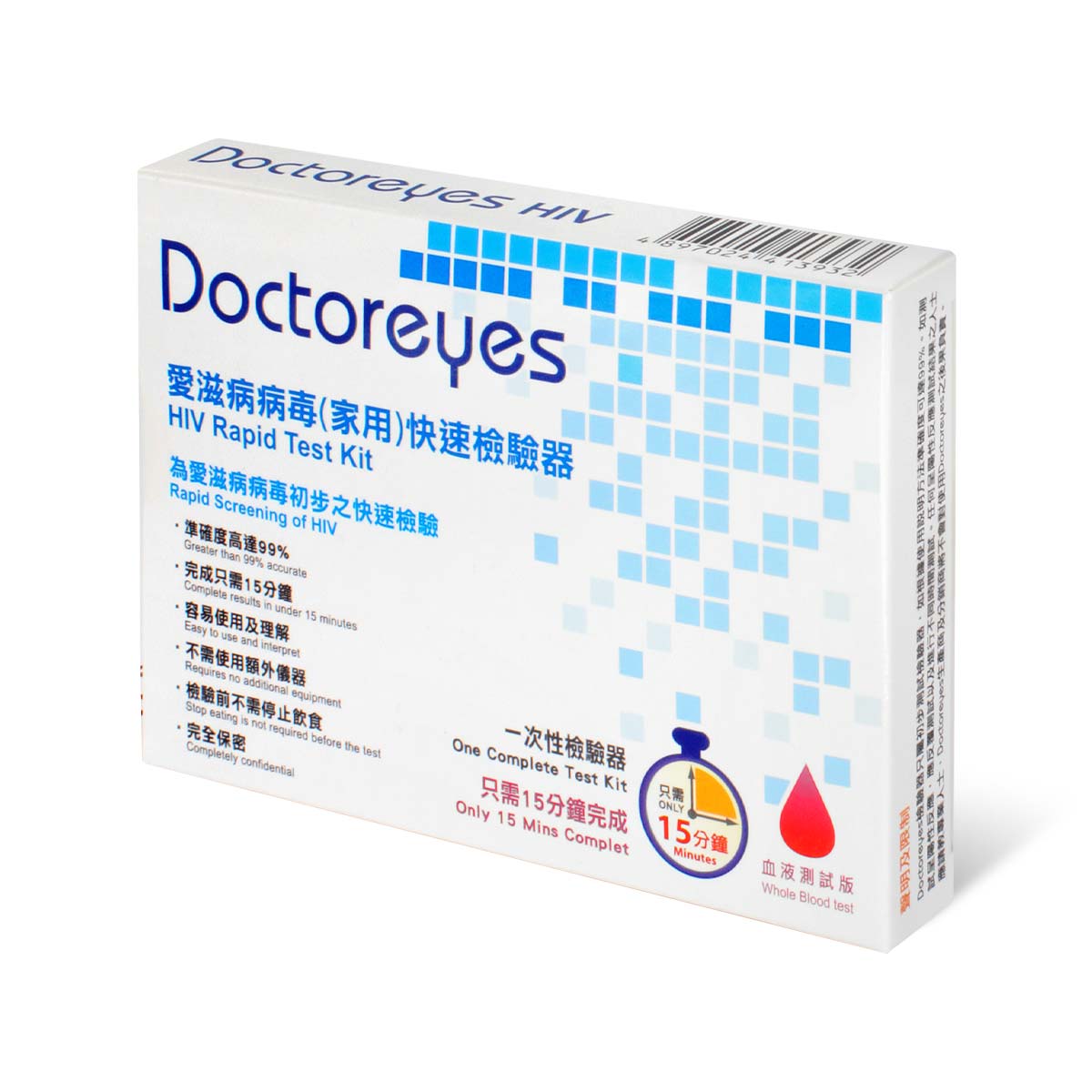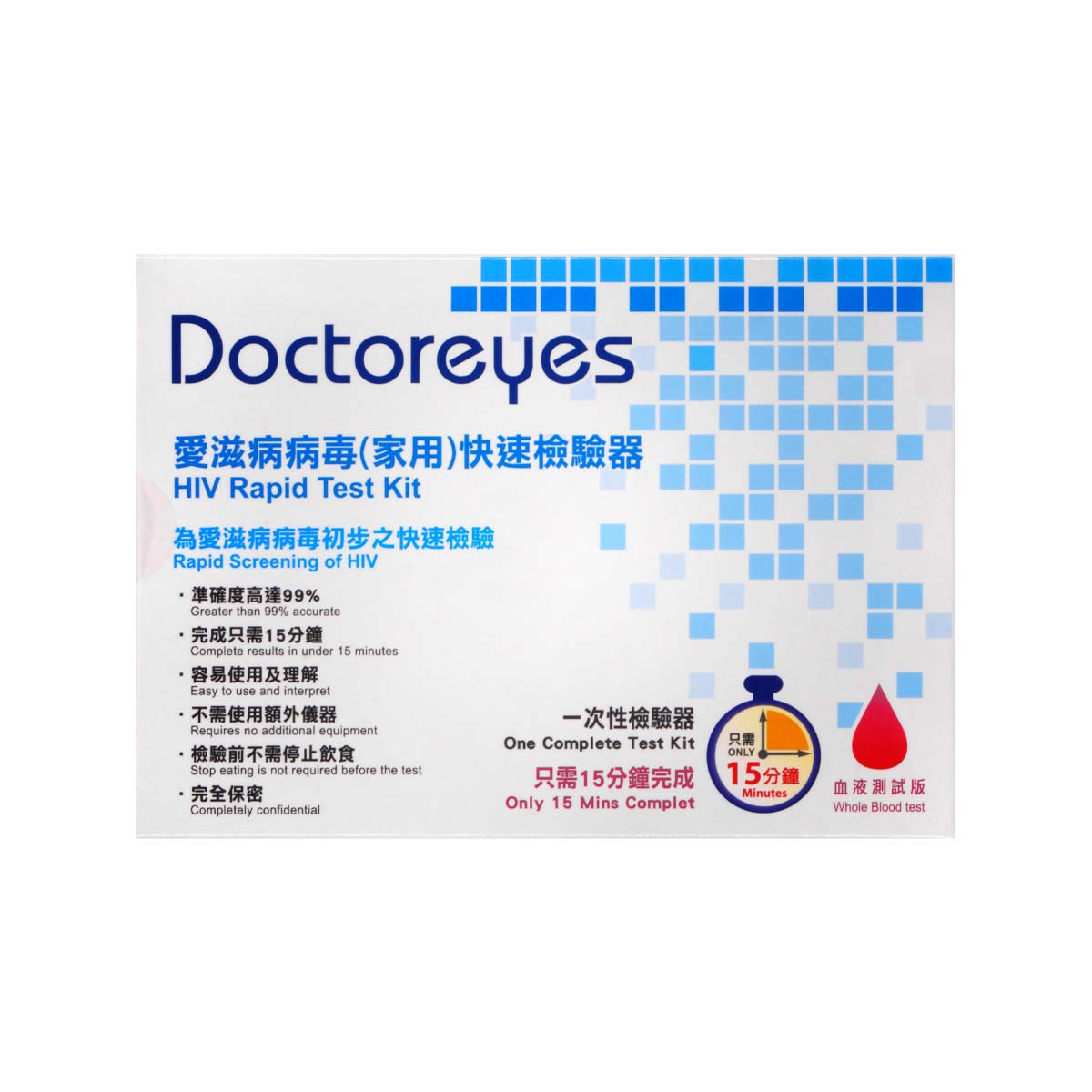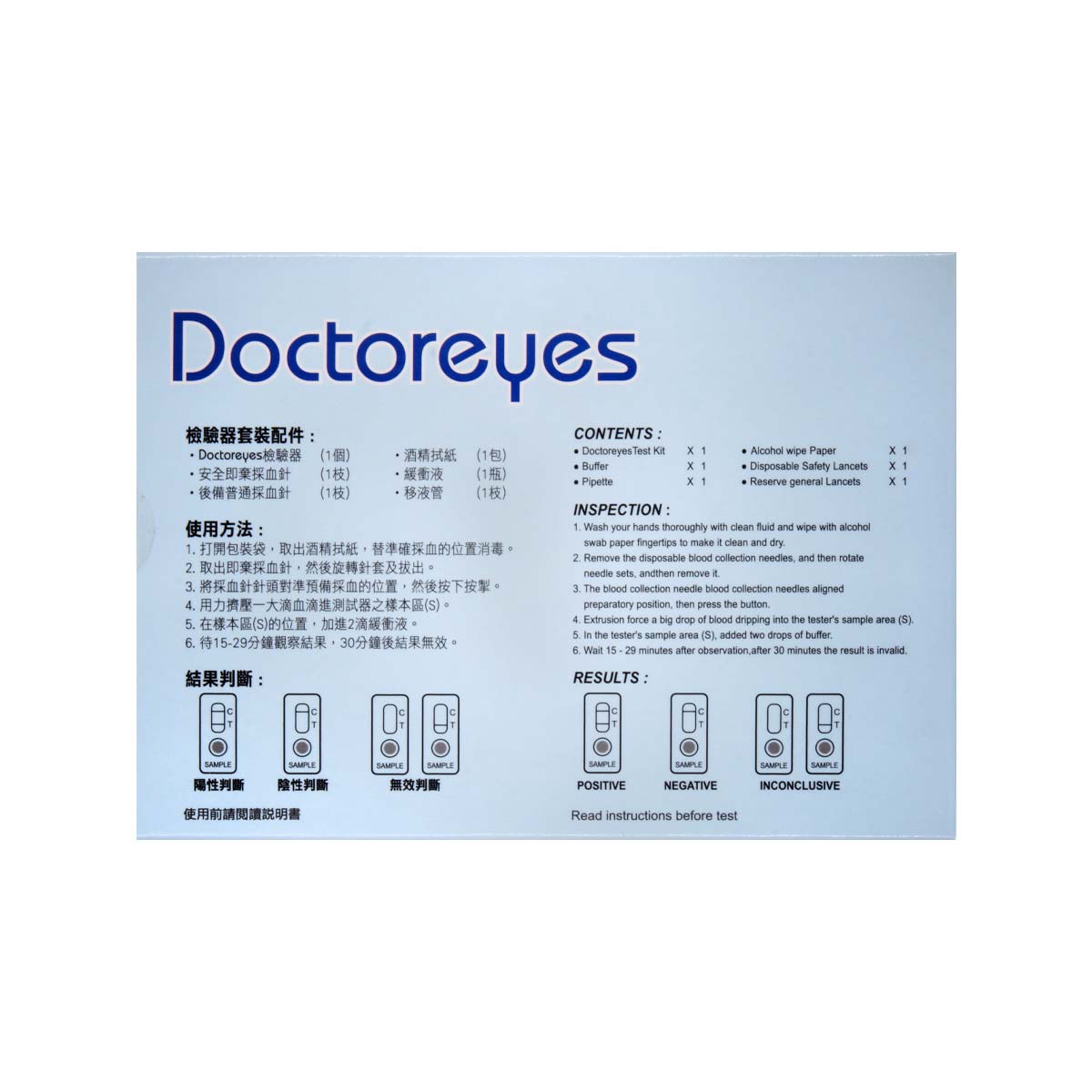 Please click here.
Due to the window period, purchase of 3 packs is recommended.
Negative result does not guarantee there is no HIV antibody in low concentration. Thus the test should be repeated in day 1, day 16 and day 90 if you suspect of being infected.
* Due to different registration requirements by different governments, this item can only be shipped to Hong Kong address. Sorry for any inconvenience caused. *
Simple testing procedure, you can all do it yourself at home
For you and your loved one, perform a safe and accurate test.
Simple: Only one drop of blood is enough for the test.
Reliable: Qualitatively detect HIV1, HIV2 and HIVO. >99% accuracy.
Fast: Result in 15 minutes.
Convenient: Additional equipment and stop eating before test is not needed.
Principle of the procedure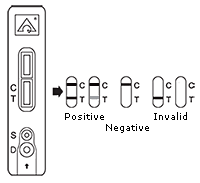 The assay starts with a sample and diluent applied to the respective well. The HIV antigen-colloidal gold conjugate embedded in the sample pad reacts with the HIV antibody present in blood, serum or plasma sample forming conjugate/HIV antibody complex. As the mixture is allowed to migrate along the test strip, the conjugate/HIV antibody complex is captured by a second antibody immobilized on a membrane forming a colored test band in the test region. A negative sample does not produce a test band due to the absence of colloidal gold conjugate/HIV antibody complex. The antigens used in the conjugate test are recombinant proteins that correspond to highly immunoreactive regions of HIV1 and HIV2. A colored control band in the control region appears at the end of test procedure regardless of test result. This control band is the result of colloidal gold conjugate binding to the anti-HIV antibody immobilized on the membrane. The control band indicates that the colloidal gold conjugate is functional.
Notice to the testing result
Negative: Due to the window period, negative result does not guarantee there is no HIV antibody in low concentration. Thus the test should be repeated in 16 days.
Positive: Please consult medical attention at once.
Product hotline
If you have any question on Doctoreyes HIV rapid test kit, please call Chi Shing Biotech Co. Ltd., Hong Kong Hotline: +852 2232-0626, Professional consultant will answer your questions.
Support hotlines
For any positive test result, an additional testing is necessary to confirm a preliminary positive result. You may seek support and further consultation from the following hotline and HIV antibody testing services:
Ingredients from USA, made in Hong Kong
Expiry date: 2020.10
*Use a condom only once. Non-vaginal use of condoms may increase the risk of them slipping or being damaged.
*No method of contraception can provide 100% protection against pregnancy or sexually transmitted infections (STIs) including AIDS.
Sampson user comments on this product: