Intimina Ziggy Cup 76 ml (Menstrual Cup fox Sex)
EAN Code7350075026140
Enjoy 50% off on pjur WOMAN Nude for purchase any menstrual cup
HKD10 Special offer on Olivia water-based lubricant traveling sachet upon purchase of any items.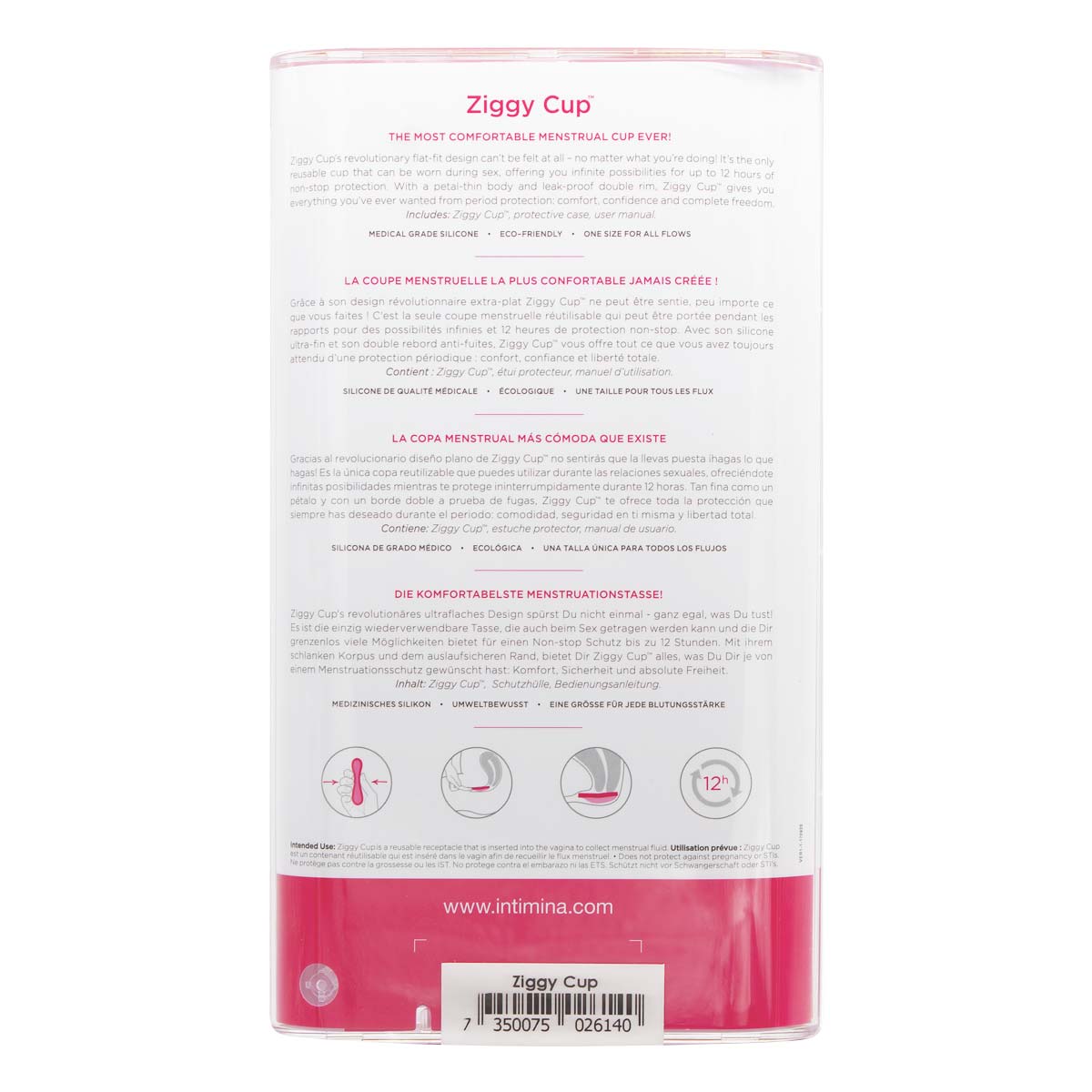 Ziggy Cup is a period protection revolution in a nutshell. It's the first and the only reusable cup that can be worn during sex!
Ziggy's flat-fit design provides up to 12 hours of comfort, freedom, and self-confidence. Ziggy Cup is made of 100% medical grade silicone. The cup body almost stick with the cervix and has a double-layer leak-proof and anti-shift design. 76ml large capacity, can be used for up to 12 hours. It is recommended to be used in circles for up to 2 years. Comes with silicone storage case, easy to store and carry. If you feel like it, you don't have to abstain during those days, ladies!
For women who want the most comfortable period ever, Ziggy Cup is the only reusable cup that can be used during sex, providing all the perks of a cup plus mess-free period sex. Made completely of petal-thin silicone, Ziggy Cup can't be felt at all - no matter what you're doing. A cup can get you through the day without you needing to count on your fingers how many tampons to bring with you.
How to use:
1. For the first use and before and after each period, sterilize with boiling water for about 5-8 minutes. For daily use, you can use mild soapy water and hot water for washing. Wash all soapy water before placing to avoid allergy.
2. Squeeze. Use your thumb and forefinger to squeeze the sides of the rim together to form a figure 8.
3. Insert. Insert the back rim of the cup first and use your index finger to push the cup. Angle the cup back and slightly down so the rim moves behind your cervix.
4. Place correctly. Tuck the front rim up behind your pelvic bone to correctly position the cup around your cervix to collect your flow.
4. Remove. Insert your finger and hook it behind the front rim of the cup. Gently pull the cup out while keeping it horizontal to avoid spillage.
5. You can wear Ziggy Cup for up to 12 hours. Empty your cup 2-3 times per 24 hour period depending on your menstrual flow.
Warnings and recommendations:
If you have difficulty inserting or don't have much menstrual blood, you can use it with a lubricant.
If you have the following feelings, you may fail to insert the menstrual cup: experience any pain or discomfort, menstrual blood flowing out shortly after placing the menstrual cup, and the menstrual cup ran out of the vagina when you stood up. If you feel the above, please relax and take out the reset. Using a menstrual cup is like using contact lenses. You will become more familiar with how often you practise.
Please clean menstrual cup with clean water or boiling water. Never use harsh cleaning agents such as tea tree oil, alcohol or bleach to clean this product.。
* Do not use Ziggy Cup™ if you have had TSS in the past.
* Ziggy Cup is not a contraceptive and will not prevent against pregnancy and/or Sexually Transmitted Diseases.
*Use a condom only once. Non-vaginal use of condoms may increase the risk of them slipping or being damaged.
*No method of contraception can provide 100% protection against pregnancy or sexually transmitted infections (STIs) including AIDS.
Sampson user comments on this product: